UK Animal Charities – Top 5
On my first job interview I was asked if I knew anything about the PDSA. "No", I had to say. I then heard how the practice had a protocol with the PDSA and that some owners with financial problems and certain conditions could be eligible for free treatment for their pets. That was the first time I heard about charities in the veterinary field. Slowly I started to understand how much their work has impacted not just vets, but the entire nation – and how they treat their animals.
So on this article I'm going to cover some well-known UK animal charities, although not all of them offer free pet treatment.
PDSA – People's Dispensary for Sick Pets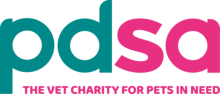 PDSA is a name you will hear. A lot. As in, you may even end up working for them. PDSA is a vet charity that offers free of charge veterinary services to owners in certain financial conditions. Eligible owners can register with the charity and have their pet examined, diagnosed and treated for no charge – they are only asked to donate, which is voluntary. The charity owns several hospitals in the country and employs a large amount of vets and nurses. They also work with private practices – providing an allowance for clients that are eligible for PDSA help. The way it works: if a client is eligible, PDSA provides a certain amount of money to the practice and the practice carries out treatment for free in exchange of a donation to PDSA. This is particularly useful in more rural areas where PDSA does not have facilities.
Blue Cross
Blue Cross is another charity that also has veterinary centres and provides veterinary service to people in specific financial situations. They don't focus just on the veterinary services, unlike PDSA, and also do pet rehoming. Blue Cross also has a pet loss and bereavement service which is free and often referred to owners after a euthanasia so they have someone to talk to about the loss of their beloved pet.
RSPCA and Scottish SPCA – "Society for the Prevention of Cruelty to Animals"
These two charities are animal welfare charities. They focus on welfare, rescuing and rehoming of both domestic and wild species. They are often also able to provide low-cost veterinary care for eligible owners, but will often use private clinical practices to help them. For instance, if an SPCA agent had been called and found an injured cat suspected to have been hit by a car, he could show up at the closest vet to get immediate help or if there was no SPCA vet centre close by. They then use the charity funds to pay for the treatment. Because of this, it's common for rescued animals with treatable diseases to be properly diagnosed and managed – sometimes even referred to specialists.
Dogs Trust
Dogs Trust is one of the most known dog welfare charities in the UK. They focus on rehoming dogs and as far as I'm aware, they don't have their own veterinary services. However, they run neutering campaigns, offering vouchers and discounts to eligible clients for neutering the dogs. These clients can then have their pet neutered at a participating vet and use the discount/voucher.
Cats Protection
Formerly known as Cats Protection League (CPL), Cats Protection is the largest feline welfare charity in the UK. They too focus on several areas – one of the three main areas of work is neutering. Cats Protection offers vouchers and discounts for cat owners and also runs national campaigns for neutering clinics. You might even be able to get your cat neutered for free! On top of that, their groups of volunteers may also trap feral cats, have them neutered at a private vet and then release them back to where they were caught (TNR programs, Trap-Neuter-Return). The work of Cats Protection has allowed for a huge percentage of domestic cats to be neutered.
There are more charities than these, but I truly believe that their presence has had a significant impact on the way pets are perceived in the UK. I will explore this further on the next article!